The Brihadeeswara Temple in Thanjavur is an architectural wonder and reflects the artistic skills of the erstwhile Chola rulers who ruled peninsular India in the early medieval period. Built by the Chola king Rajaraja I in the 11th century, it is one of the tallest temples in the world. It was so designed that the Vimana never casts a shadow at noon at any part of the year.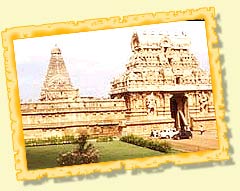 About The Temple
The origin of the magnificent Brihadeeswara temple goes back to the late 10th and the early 11th century, when Rajaraja Chola, the great Chola ruler, ruled a kingdom that spread through a large part of peninsular India. Rajaraja Chola, like other Chola rulers, was a great patron of art and architecture. During the time of the Cholas, most of the magnificent temples as well as exquisite bronze sculptures in South India were created. The style and grace of these sculptures and temples, and an eye for the minutest of the details, till today, is without parallel.
Festivities
Every month, the day on which the ruling star is Satabhishag is treated as a festival as that was the ruling star at the time of Rajaraja's birth. The other festival is Krittika day in the month of Karttika (also spelt as Kartik).
The annual festival for 9 days is celebrated in the month of 'Visaka' (May-June), during which the drama of Raja Rajeswara is also enacted. The deity is daily bathed with fragrant water in which the buds of big Champaka flowers have been soaked. Ghee is used in place of oil for keeping the temple lamps burning. On festival days, the offering consists of eight varieties of cooked rice (mixed with tamarind, coconut, lime, juice, jaggery, gingelly, curd, etc.). Other items include cake made with Dal, rice, pepper and mustard; vegetable dishes, fried vegetables, sugar, plantain fruits, tamarind, curd and ghee, and other items.
How to get there ?
Air -
The nearest airport is at Trichy (65-km).
Rail -
There is a railway junction in Thanjavur. It is well connected with Trichy, Chennai, Madurai and Nagore.
Road -
Thanjavur is well connected by road with all the major towns and cities in Tamil Nadu nd also with Kochi, Ernakulam, and Thiruvananthapuram in Kerala and Bangalore in Karnataka. There are regular bus services for visiting all places of interest in and around Thanjavur. Tourist taxis are also available.