About Tamilnadu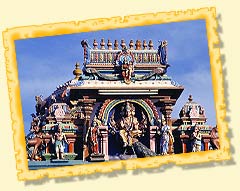 Capital of Tamilnadu - Chennai
Cradle Of - South Indian Temple Architecture
Official State Language - Tamil
Best Time To Visit Tamil Nadu - December To February

Tamil Nadu is bounded by Karnataka and Andhra Pradesh in the north and Kerala in the west. The eastern and western tips of the Tamilnadu are defined by the Point Calimere and Mudumalai wildlife sanctuaries while the northern extreme is Pulicat lake and the southernmost tip is Kanyakumari,the land's end. Tamil Nadu is principally washed by the Cauvery, originating in Coorg in neighbouring Karnataka . Chennai, the capital of Tamil Nadu is known for its beautiful beach resorts.

Tamil Nadu - A Temple State
Tamil Nadu, the cradle of south Indian temple architecture, is a living museum of styles that originated in the 7th century and matured in the huge temple complexes studded with towering gateways-"Gopurams"-that soar above the markets of almost every town. Mahabalipuram, anchipuram, Chidambaram, Kumbakonam, Rameswaram, Palani, Srirangam, Tiruttani and Kanyakumari are some of the famous pilgrim centres in Tamil Nadu. The famous Meenakshi temple of Madurai is a must see.

The Nilgiri Panorama

In the west of the state, where the hill stations of Kodaikanal and Ooty are the premier travel attractions, sylvan hills offer mountain views and a network of trails winds through forests and tea and coffee plantations.Mudumalai Wildlife Sanctuary, a vast spread of deciduous forest in Tamilnadu dominated by teak, offers a good chance of spotting elephants and dholes, wild pack-hunting Dogs, Tigers and Leopards. Annamalai Sanctuary in Tamil Nadu, closer to Kodaikanal in the Palani hills, is better known for its Lion-tailed Macaques (black-maned Monkeys). The wetlands of the coast provide perfect resting places for migratory birds, whose numbers soar during the winter monsoon at Vedathangal, near Chennai, and Point Calimere.