Temple Town Of Tamil Nadu
Located at a distance of 58-km from Chennai, Mahabalipuram has everything that makes a site memorable; tradition, history, piety, western annals, and current importance as a centre of tourism.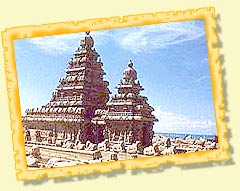 Name Of The Site
The proper name of the site is "Mamallapuram", after Mamalla, an honorific of the Pallava king, Narasimha Varman I (630-668), who created the earliest of its monuments. But it is popularly called "Mahabalipuram", or "The city of Bali", whom Lord Vishnu chastised for his pride and of whom there is a relief in one of the excavated temples here.
About Mahabalipuram
The history of Mahabalipuram dates back to two thousand years, it contains nearly forty monuments of different types including an "open air bas relief" which is the largest in the world, for centuries it has been a centre of pilgrimage, it figures in the early annals of the British search for the picturesque in India in the 18th century, today it attracts shoals of foreigners in search of relaxation and sea bathing, and most strange of all, it has an atomic power plant for neighbour. A small library has been written on it. Over its history and that of its monuments a number of scholarly controversies rage.
Mahabalipuram was already a centre of pilgrimage when, in the 7th century Mamalla made it a seaport and began to make temples fashioned of rock. It was through Mahabalipuram that many Indian colonists, who included sages and artists, migrated to Southeast Asia. Sri Lanka's national chronicle, the "Mahavamsa" testifies to this fact.
Mahabalipuram - A Classical Site Of Indian Historical Archaeology
When the first British visitors went to Mahabalipuram in the eighteenth century, they found the monuments under sand, a few completely so. It must have fallen into neglect after the fall of the Vijayanagar Empire or, at least, Vijayanagar authority. It had prospered under the Cholas and their successors until about the seventeenth century. Europe knew of it as early as the 13th century when, following Marco Polo's visit, it appears in the Catalan Map of 1275.
The first European to mention it directly, but with no personal knowledge, of it, did so in 1582. The first English visitor was William Chambers in 1788. Following this, earnest antiquarians from Madras puzzled over it. One of them, Colin Mackenzie, dug out some of the monuments from sand and deputed assistants to collect its traditions and coins. In this way Mahabalipuram became one of the classical sites of Indian historical archaeology.
How to get there ?
Air -
Chennai (58-km) is the nearest airport with both domestic and international terminus. Chennai is connected with all the major places in India through the numerous domestic flights. International flights operate from various parts of the world to Chennai.
Rail -
The nearest railway stations are Chengalpattu (29-km) and Chennai (58-km). From these stations one has to take road to reach the Mahabalipuram.
Road -
Buses are available from Pondicherry, Kanchipuram, Chengalpattu and Chennai to Mahabalipuram daily. The road to Mahabalipuram is good. Tourists can also hire a taxi from Chennai.