This year acquaint yourself to a totally new world where nature has spread all its glory in the most fascinating manner. Visit Kerala that offers everything that an avid traveler looks for. Spend sometime cruising along backwaters and cherish the widespread natural beauty. Take a walk along the vast sea beaches and listen to the mesmerizing music of wild sea waves.
Not only this, state's rich cultural heritage is evident in a multitude of religious architectural wonders. Visit magnificent Hindu temples made centuries ago, later Islamic mosques with Malabar gables and colonial Portuguese Baroque churches. You would find the state so unique, so opulent culturally and otherwise that you would wish to come here again and again.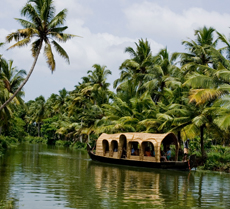 Every place of Kerala has an associated charm, a distinct beauty that is hard to forget for lifetime. Visit Thiruvananthapuram, Kerala's capital, which is known for its beach - Kovalam, the Sri Padmanabhaswamy temple and various museums and splendid palaces. Kerala is also famous for its stretch of backwaters running across the state. For breathtaking view of backwaters go to Valiyaparamba Backwater, Chandragiri Cruises, Alumkadavu, Willingdon Island, Pathiramanal, Thiruvallam and have time of your life. Unexplored, unspoiled, the backwaters of Kerala hold great promises of enchanting holiday options.
Bekal Fort, the largest and the best-preserved fort in Kerala is the most important monument of the region. Situated on the National Highway, the fort was built in 1650. On moving towards Guruvayoor, one of the most sacred and important pilgrim centres of Kerala where the famous Sree Krishna Temple is situated provides a pious relief to the devotees.
Pay a visit to Kappad, the historic beach where Vasco da Gama landed on the 27th of May, 1498 with 170 men in three vessels, thus discovering a sea route to India. Periyar sanctuary attracts a large number of nature lovers every year. Also called the Thekkady Wildlife Sanctuary, this place is ideal for watching the animals in their natural habitat. Spread over 777 sq.km of the Cardamom Hills of Western Ghats, the Periyar Sanctuary is located 137 km from Madurai.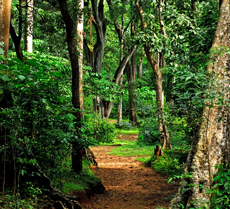 The salubrious ambience of Ponmudi hill station is worth experiencing. It is at a distance of 61 kms from the capital. The enchanting bounty of nature can be witnessed here in the quiet surroundings. Trekking is a passion with the visitors to Ponmudi, lying within easy driving distance from Thiruvananthapuram.Kerala is famous not only for its beauty but for its enticing festivals also which fill the inhabitants with life and vigour whole year through. Starting from 10-day annual festival in January at Sreekandeswaram Temple, Thiruvananthapuram, there is week-long Nishagandhi Dance festival in the month of February. Pooram festival in Thrissuraround April-May and Flavor Food Festival, at the Kanakakunnu Palace grounds, Thiruvananthapuram is celebrated in May.
OnamWeek celebrations, the annual harvest festival of Kerala begins in August and lasts for 10 days. Another important festival is the annual Pongala Utsavam, to which only women are allowed at the Attukal Bhagavathy Temple, Thiruvananthapuram. Therayattam festival is held to propitiate the gods and demons recognized by the pantheon of the Malayalis.