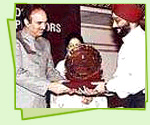 You can rely on us for your visits and we rely on experience.Wide variety of delectable delicacies pampers upon the tastes of guests who are the invitees of Radisson Plaza Resort. At Radisson Plaza Resort you get everything starting from traditional, Indian, delicious Chinese or mouthwatering local Kerala dishes.
Someone has said- "Attitude determines". Changed with a positive attitude thus. TSI has been moving ahead surely and steadily creating new opportunities for the traveller and earning a name for itself in the market. Beginning on a modest scale in 1987, from 380 tourists, today its activities encompass the entire spectrum of tourism operations recording around 40% annual growth- with over 5000 overseas tourists in the current year. The company has been successful in creating a niche for itself in the market.
Right form the basic planning to execution, professionalized and yet most personalized services, from ticketing to cars & coaches, stay in hotels and receiving and seeing-off at the airports.