Hoysala Village Resort at Hassan, a prime enterprise of Nirvana Group of Hotels & Resorts Pvt. Ltd. New Delhi, is now open offering comfortable and splendid accommodation, exquisite cuisine and entertainment in a relaxed ambience.
Away from the bustle, foul air and cacophony of cities, this Shangri-La is designed to enthrall you and your family with ample privacy and superb sense of luxury that you always longed for - all that at an affordable price. Economy with-out any compromise on comfort is the accent at Hoysala Village Resort.
Located at 200km from Bangalore airport and 5km from peaceful city of Hassan known for its salubrious climate, this Resort Hotel is spread out on five acres of green meadows in the midst of agricultural land.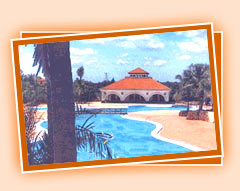 Designed by nationally renowned award winning architect, Dr B.S.Bhooshan, Hoysala Village Resort combines the geometric disciplines of local Hoysala architectural tradition and the idyllic simplicity of Malnad villages. Clusters of 33 well appointed rooms and suites in the style of cottages with all modern amenities and the stone pillared spacious multi cuisine restaurant(Belur) and bar(Karanji), are planned around and inviting swimming pool (Belagola) and are laid out meandering walkways. The architecture of the resort is invigorating yet restful. The tile structures, the earthly walls of amber, the traditional jaglis (sit outs), the courtyards and the warmth of wooden high ceilings are carefully designed to transport you to the rural ambience, yet provided with a premium of comfort and service. The fitnesse of details - in architecture or in service makes this one of the finest resorts in South India. Designed with eco friendly materials, the resort is a milestone in sustainable architecture.
The 15th C. Channakeshava temple at Belur, known for its exquisite soap stone sculptures and pillars which took 103 years to complete, is only 30 km from Hoysala Village.
At 40 km is the Hoysaleswara temple at Halebid another landmark in Hoysala architecture with sculptures of gods, animals and danseuses.
The important Jain pilgrim centre of Shravanbelagola with a 17-m high monolith of Lord Bahibali said to be the world's largest monolithic statue is 50 km away.
Travel South to 130 km from Hassan and you get Mysore, the city of palaces, temples and the famous Brindavan gardens. The city is known for the exclusive Dussehra - the annual festival of dance, music, martial arts, pageantry and lights-drawing millions from far and near.