Easily one of the most attractive regions in India, Coorg or Kodagu is an enchanting expanse of natural tourist spot that nestles amid the hills and valleys of the picturesque Western Ghats. The Kodagu people have always stood apart handsome, brave and hospitable. A distinguished martial tradition has given the Indian Army several Generals and Brigadiers.
Any visitor to this bewitching place goes back with evergreen memories. In this lush land live "Kodavas", the inhabitants o Kodagu, having their own richly diverse typical taste, creed, colour, language and dress code, whose deeds have been immortalized in history. Kodavas are known for their beauty, ornate jewelley, bravery and hospitality. This district has given many a army generals, sports persons, bureaucrats, men of quality to the fourth estate and so on.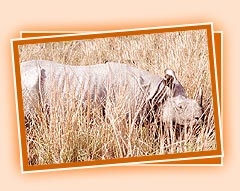 Situated at 1,525 m elevation, the town is great for walking around, surrounded by rolling which offer execellent trails for hikes. Tadiyendamol is the tallest peak here, waiting to be climbed. One can have a distant glimpse of the Arabian Sea from this peak. There is a fort, which houses a temple, a chapel, the prison, a small museum & assorted government offices, were built in 19th century. Raja's seat is a promontory with breathtaking view. It is said that for centuries the Kodagu royals came here in the evenings to watch the spectacular sunsets.
The important crop of Kodagu is coffee along with pepper and Cardamom. The taste of mandarin oranges lingers long in the taste buds. Kodagu is also famous for producing the tastiest honey. The birth place of "River Cauvery" the life line of Karnataka, the luck line of Tamil Nadu is in Kodagu at the feet of Brahmagiri Hills known as Talacauvery which is the famous pilgrimage centre. For traditional hospitality, food and exchange the unique culture of this tiny district, hundreds of Home Stays have opened their doors to guests. Houses, rooms, cottages in amidst lush green coffee estates are the memorable time of the tourists in recent years.
Known by their special variants of wearing the saree, the Kodagu women are graceful and beautiful. Kodagu district has several tourist spots of historic, epic and natural importance. Kodagu has three taluks- Madikeri, Virajpet and Somwarpet. Steep hills, valleys and gorges with countless streams that gurgle through them, beckon intrepid trekkers and rock climbers.