4-km from Hanumakonda crossroad in Warangal district is the Thousand Pillar Temple, a fine specimen of 'Kakatiya' architecture and sculpture. It is the main attraction of Hanamkonda. The temple was built by 'Rudra Devi' in 1163 AD.
The temple is in shape of a star and has three shrines dedicated to Lord Shiva, Vishnu and Surya. The temple is built on a 1m high platform on the slopes of the Hanumakonda hill, and has a majestic monolithic Nandi. The black basalt Nandi, a monolith, has a lovely polished finish.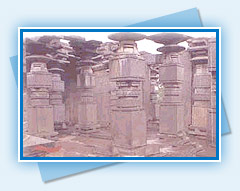 There are many small lingam shrines surrounding the gardens. The temple is famous for its richly carved pillars, screens and detailed sculpture. The atmosphere is calm and serene with the sonorous ringing of the puja bells, gentle chirping of the birds and the soothing cool breeze.